More than just a pretty face
When you launch the Tango FTP client you'll immediately notice the quality and functionality built into this program, from accounts and snapshot management to the feature set, navigation and intuitive interface. Tango FTP makes FTP easy!
Tango FTP is the first consumer FTP client written entirely in C# (C-Sharp) using the cutting-edge Microsoft .NET framework. The result is a fast, reliable and rock solid application.
Manage your Accounts and Create Snapshot Views
With Tango FTP, setting up and managing your accounts is easy. Once you've saved an account's settings and assigned a "nickname" the information is saved on the favorites menu.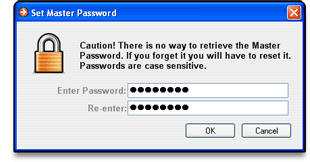 Within each account you can also save unlimited local / server "Snapshot" views which are listed as subheadings under each account so you can easily access your most frequently visited directories with a single click.
Setup a Master Password
You also have the option to assign a Tango FTP Master Password that is separate from all individual account passwords. One Master Password, when applied, will lock all important accounts as an extra layer of security.
Easy Login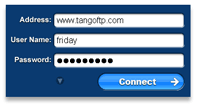 The Tango FTP client login has two modes, Simple and Advanced. Here you see an example of Simple Login with three input fields; Server Login, User Name and Password with a blue connect button you can't miss. The Advanced Login view offers several more login options for a power user.
When you click the connect button you will notice that it changes from "Connect" to "Abort". Click "Abort" if you wish to abort the login.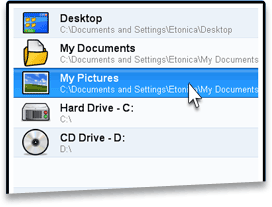 New Tango FTP Springboard
One of the most useful and unique features of the Tango FTP client is the Tango Springboard. In Tango, the Springboard is the highest directory on your PC and acts as a quick launcher to your common PC directories for fast navigation.
Browser Style Navigation
The Tango FTP client Tool Bar has a web browser design with back, forward and refresh buttons for easy navigation, an address field so you always know where you are, and clean, bright function icons to make the job at hand fast and easy.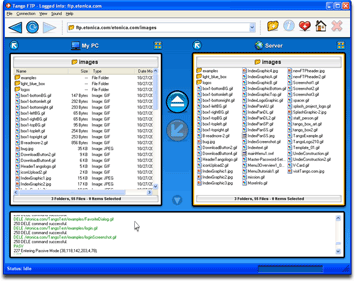 Intuitive Design
Our designers took great pride in developing the Tango FTP client interface. Every aspect was considered from a user-centric perspective.
When you first log in to a server, you see all your computer files in the left window under "My PC" and the remote files in the right window under "Server".

To transfer items, select files or folders on either side to upload or download. If you select a file on the left for upload, the Green Upload button lights up - if you select a file on the right for download, you see the Orange Download button light up. You can also Drag 'n' Drop files and folders from one side to the other.
To disconnect from the server, click the big blue "Eject" button in the middle of the screen and you will return to your login page, it's that simple.